Sweatbands & Socks Set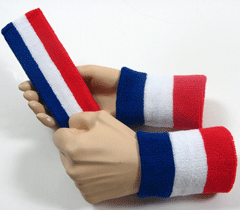 Sweatbands sets (head sweatbands + wrist sweatbands)
We have a variety of headband with sweatband sets. You can get solid color athletic head bands with 2.5in wristbands and 4in wrist sweatbands. The sets are available with the two color head and wrist bands too. There is a wider two color head sweatband and a matching wristbands that you can get in a set as well.
Please read >> Comments and Feedback to COUVER
Now you can get sock and wristband sets and headband with wristband sets for your whole color run squad. Or use them for an after school program activity/ gift. Regardless what you need these sets for, you can get your bulk order in less than a couple days from the day you order. So if you need to get 12 head sweatband and wrist sweatband sets or socks and sweat wristband sets in less than a week for your cancer awareness run or for the big game, we can help you out.