Breast cancer awareness month has really become a time when athletes and citizens alike come together and remind everyone that there is work to be done. Professional teams have ordered from our large selection of pink wristbands with the same intentions as the schools and youth leagues that have ordered from us as well. They order them with the intention of helping to bring attention and support to breast cancer research in the efforts to find a cure. We are proud to provide these products in bulk so that you can get the team to inspire support from the community for a noble cause.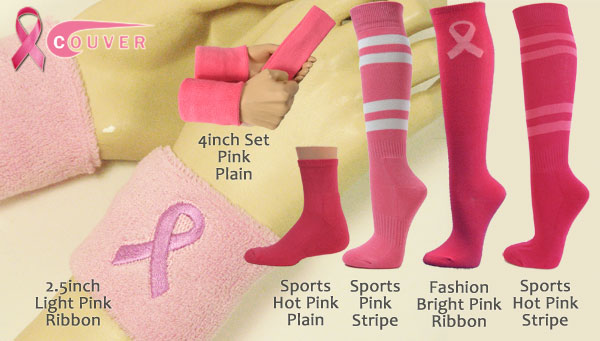 How Couver wrist Sweatbands look on wrist? Bright Pink Wrist Sweatbands (model: WB104-BRTPNK) at Athletics vs Mariners
13th annual Oakland A's Breast Cancer Awareness Day

| | |
| --- | --- |
| | |
Affordable Pink Wristbands
for schools, churches,
YMCA, events, etc..

New!
Sep 2015 Couver Pink Shirts & Accessory Collection
(.pdf, 23 pages)

Tell us 1) Quantity, 2)Sizes, and 3)Model Numbers that you want by email, phone, fax, or mail when you are ordering.