Customize
Order custom Sweatband (customized head sweatband and wrist sweatband) with your logo/text embroidered
Great item for promoting your events, organization, or simply for your team members.
Our customers are happy with our athletic head sweatband, wrist sweatband & socks as an alternative marketing tool to the usual t-shirt, hat, or water bottle :)
e.g. of events
Church Activities Day
Trade Show
School Fund raising
5K and 10K Running Events
Triathlons
Sports Summer camps! Baseball, Basketball, Soccer, Volleyball, Softball, Dance etc..
Mountain Bike Races
Bicycling Tours
Tennis Tournaments
etc...
Process of customizing Couver headbands, wristbands
The following is the image of customizing Couver sweatband. The time shown is approximation and may change according to your requirements and requests.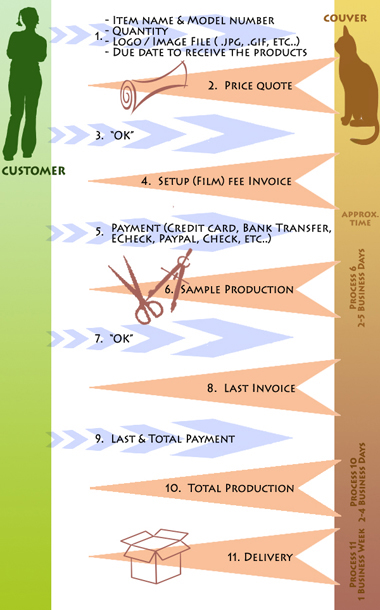 General custom order info
Minimum quantity for custom sweatband order is 100 pieces/color/logo


$35/logo Film fee is required to setup customer's logo/words design input to our embroidery machine for sweatband. It is a one-time setup fee as long as customer does not need to change logo/words design.


Shipping fee has to be paid by customer from zip 90670 to the shipping address


Delivery time is about 3 weeks for few hundreds pcs of order *after* order and payment are received (1 week for sample production + review & feedback + payment, 1 week for total production, 1 week for shipping)


Packing
HEADBAND - 1 piece / plastic bag
WRISTBAND - 1 pair (which is equal to 2 pieces) / plastic bag
SOCKS - 1 pair / plastic bag
or BULK packing (please request)


Express order: 2 weeks delivery time with high express service fee and *much* higher express shipping fee + express order fee. (PLEASE CONTACT US EARLIER AND DO NOT ASK FOR EXPRESS ORDER..)
Notes on custom headbands and wristbands order
We do not do embroidery on cheaper wristbands like Youth wristbands for school and Kids wristbands for school wholesale
Next Step: Custom Order
Custom Wrist Sweatband Samples
Price Table (at the bottom of the page) - Custom Head Sweatband
Price Table (at the bottom of the page) - Custom 4inch Wrist Sweatband
Price Table (at the bottom of the page) - Custom 2.5 inch Wrist Sweatband
Custom socks order
Custom socks order Min. qty is 600 pairs/color/logo
Please indicate in your request where you want to have your logo or words embroidered or woven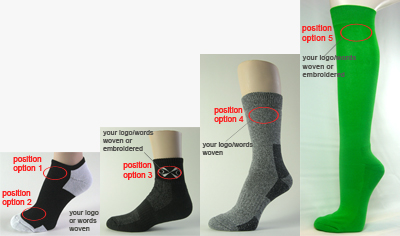 ==> What COUVER's Customers said about their Customized (Custom Logo Embroidered) Headbands, Wristbands, and Socks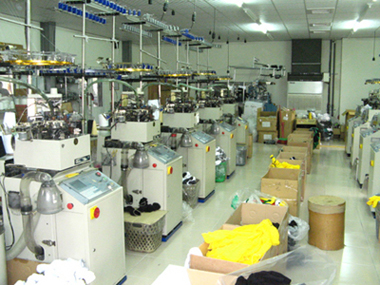 Custom Logo Headbands, Wristbands, and Socks with Small Quantity
If you need custom logo/words embroidery on headband, wristband, or socks with smaller quantity, we suggest you order our plain Sports headband or Sport Wristband, or socks. Then you ask local embroidery or screen printing service providers in your area to do your logo for you :)

==> Embroidery / Screen Printing Service Providers you may want to contact