Couver Head & Wrist Sweatbands
Welcome to COUVER
Your Leading Sweatband & Socks
Wholesaler & Manufacturer

Wristbands | Cheap Cotton Wristbands | Sports Wristbands Wholesaler
Couver Corporation is the ultimate online source for high quality, first rate wholesale sports sweatbands. We also sell wristbands, headbands, armbands and socks. Whether you are looking for cheap sweatbands and socks, or for thick & high quality products, we have just what you need. Located in the Los Angeles area, we are a direct importer and manufacturer of our own line of five star sports apparel. Having been in business for over 17 years, we have the experience and ability to provide our customers with the highest quality and cost effective wholesale sweatbands and socks. We take great pride in being able to deliver our clients apparel that is second to none in our industry. In our years of offering the best and most affordable sweatbands and socks online, we have found that many of our customers visit multiple sites when looking for apparel. They finally decide to purchase with our company simply because of the vast selection of items that we carry. Brick and mortar stores simply do not carry our type of selection. Our inventory is immense and we can offer you styles and sizes that cannot be found anywhere else. We can custom make a variety of different
wristband
styles to fit your needs.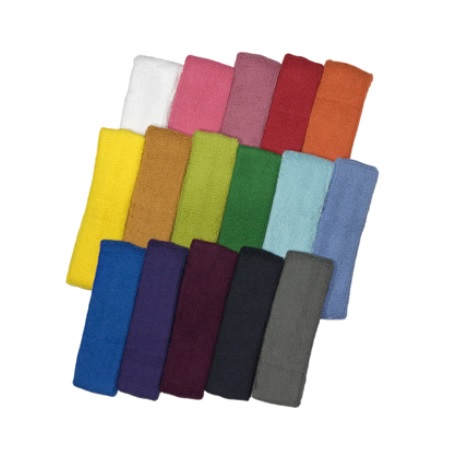 High Quality Apparel for Youth, Adult and Sports Teams
Top Tier Apparel Wristbands and Sweatband For Your Team!
Our combinations of colors and styles vary as much as our clients do. Our customers come from a variety of industries and sports. Our clients include businesses such as:
Dance & Yoga Studios
Retail Clothing Stores
Sports Teams
Elementary/Junior/High Schools and Colleges
Universities
Non-Profit Associations
Mud Run Sponsors
Adult Sports Leagues
Fitness Clubs and Gyms
Youth & City Leagues
Booster Clubs
Churches
Additionally, most of our repeat customers are YMCAs, marching bands, cheerleading teams, or any other type of group that may need to add pieces to their uniforms. We cater to teams and activities such as racing, badminton, baseball, and basketball. Other teams that we cater to include volleyball, bowling, dance, cycling, decathlons and football. We also sell to golf, hand ball, karate, biking, racquetball, rugby, skateboarding, soccer, and wresting teams. The reason that we are the ideal choice for sweatbands and socks for these types of recreational activities is because our products vary so greatly per category. We also offer our sports customer's specific extra long and super long protection armbands that cannot be found anywhere else online or offline. Moreover we offer a high variety of socks including toe socks, quarter length socks, ankle socks, and low-cut no show socks. We also offer leg dance warmer socks, mid-calf crew socks, hiking socks, snowboard winter socks, knee hi socks, multicolored fashion socks, and two and three color striped socks. These quality socks differ from other socks as they have built in moisture control, smooth toe seam construction, heel padding and heel cup dart design to hold your heel in place. We offer you these in a variety of different set quantities including 12 piece sets so that you can take advantage of our wholesale pricing. Whether you are shopping for a particular event or a season, we have what it right for you.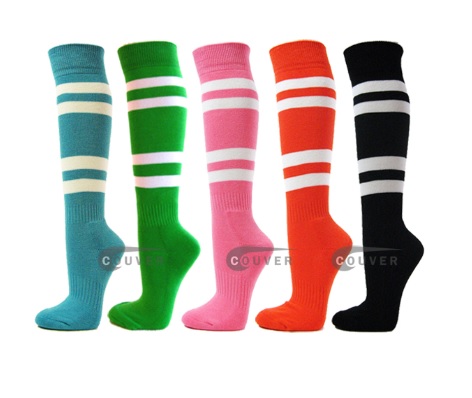 Large Variety of the Best Striped, Solid and Custom Embroidered Sweatbands
You Won't Find This Type Of Selection Wristbands Anywhere Else!
Our products come in a variety of shapes and sizes for you to choose from. The sweatbands styles you will find in our inventory include: solid color, multicolored, patterned, custom, logo matched, two and three color striped, multi-striped, toddler sizes, kids sizes, youth & adult sizes, extra long, reversible, extra thin and numbered. We even have cool urban style selections such as traditional camouflage, pink camouflage, black and white camouflage, brown camouflage, various colored argyles, hounds tooth and chevron styles. In addition to these styles we also offer special color combinations for the most popular sports teams such as USA, Germany, Italy, Jamaica, etc. Likewise we also even offer head and wristbands featuring holiday themes such as Halloween, Christmas, St. Patrick's Day, 4
th
Of July, etc. Our styles are seemingly endless when you take into account that we can custom make your individual or wholesale sweatband or sock order specific to what you are looking for. Whether you are shopping for a special occasion such as party favors for a birthday party or an event such as
breast cancer awareness
month, we can help you with the customization of your desired product. Additionally, we also have hard to find colors and designs such as neon & pastel solids, glitter, polka dots, heart/flower/star patterns, and complementary color combinations. We sell in sets of solids as well as multicolor striped sets. Moreover, aside from the basic colors, we have hard to find colors such as hot pink, steel blue, dark orange, lime green, dark purple, maroon, teal, tan, and pale green. They also come in all the hottest patterns, including argyle and hounds tooth. If you are looking for sweatbands that are extra thin, extra thick, white striped, black striped, thin striped or thick striped, we have just what you need in our massive inventory.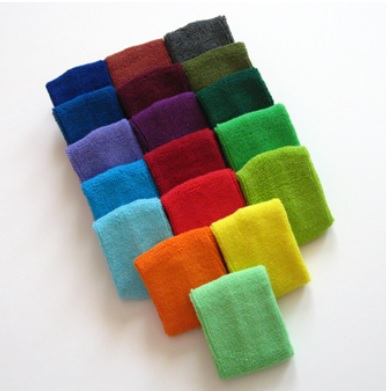 The Hottest Look for Your Team
Match Our Wristbands and Sweatbands To Virtually Any Kind Of Uniform!
Whether you are coaching a little league, high school, or intramural sports team, show the other teams that you came to play with all the hottest sports apparel and accessories. Unique colors and styles, and the uniformity of having your entire team wear them, will let everyone know that your team is a single, strong unit. And they can give your team a boost, making everyone feel like they're on the same page because they look like they are. We have even had customers buy accessories, such as matching wristbands, to give out to an entire youth sports team. Our products can inspire cohesion or highlight your individuality; the choice is up to you.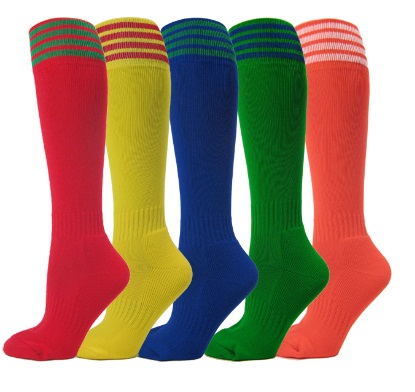 The Latest Trends in Sports Apparel By Couver
Modern, Trendy Style Wristbands and Sweatbands
In addition to socks and sweatbands, we carry some of the latest trends that top athletes are wearing. Watch any major league game and you will see throngs of baseball players sporting titanium power necklaces. Made with a combination of titanium and germanium, many athletes swear by the power of this particular piece of sportswear. We carry a wide range of colors and styles to help you play in style, just like the pros. We also carry support wear, such as knee supports, to help ease you through injuries and stabilize your joints to prevent future ones. Soccer jerseys are another popular item, perfect for outfitting your youth or adult league teams. And headbands aren't the only headgear we feature; visors and knit caps are also available to suit your sporting needs in every season. And in the winter months, we can help get you out on the mountain in comfort and style with the wide variety of scarves and snowboard stomp pads we carry. Keep up to date on all the latest trends in sporting gear by periodically checking our collection. From ballparks during the dog days of summer to ski slopes in the dead of winter, make sure you have the proper equipment to keep you playing stronger, longer. And with so many colors and styles to choose from, you can be sure that you're looking good and having fun while you're doing it.
Great Deals, Every Day
Best Sports Apparel and Wristbands Available Online!
We sell our products at the lowest prices possible, meaning you get a great deal every time you visit our site. In addition to our everyday low prices, we also have a wide variety of products on discount. Check out all our Specials to see how much you could save. The stock is always changing, so check back often for all the latest deals. With all the variety of our general inventory, the items we put on special can be had for a third off of our already low prices. Browse the page for the best prices on socks, headbands, necklaces, jerseys, and a variety of other selected items. And at these prices, you can outfit an entire team, with enough left over for a stylish headband for you. This is true for all the items in our inventory, as we offer the best prices around.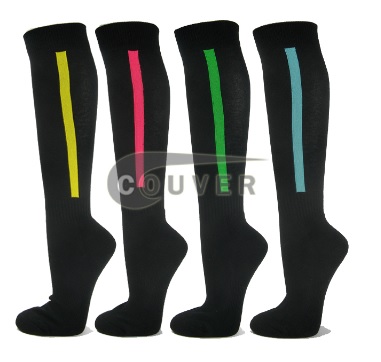 Domestic and International Shipping With Top Notch Customer Service
Fast And Easy Shipping on Wristbands and Sweatbands
We do our best to support our local community and organizations with top notch customer service and durable sports socks and sweatbands. We accept school and school district purchase orders and although our clients do not need to be retail stores to be able to get our great wholesale prices, we do offer reseller accounts for retailers with reseller permits. Our service is speedy and we are proud to ship safe and secure internationally. We accept Visa, MasterCard, American Express, Discover and our customers can also use their Pay Pal accounts to place their online orders. We also provide Will-Call Service for our clients in the Los Angeles area who wish to save on shipping. Most of our socks and sweatbands orders that are received by 2:00 p.m. Pacific Standard Time will ship out the same day upon receipt of payment. We accept orders by fax, phone, email, as well as by mail. Our online store is open twenty four hours a day, seven days a week. Our friendly customer service representatives are standing by to handle all of your concerns. Providing excellent customer support is of paramount importance to us here at Couver Corporation. If for any reason you are not 100% satisfied with your buying experience, please contact our offices immediately. We look forward to helping you with all of your sports sweatbands, socks and apparel needs.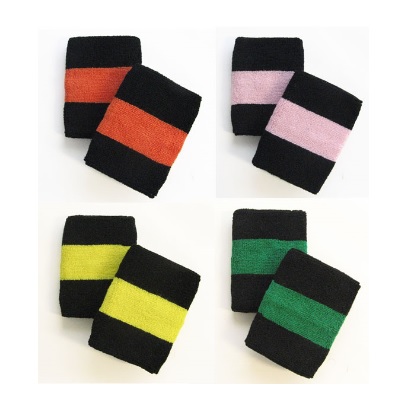 The Experience You Want for the Products You Can Trust
Top Notch and High Quality Sweat Wristbands!
With more than 17 years in the sporting apparel business, Couver Corporation is a trusted source for the products you want. We produce our own merchandise, meaning we can guarantee the highest quality at the best prices. With manufacturing, direct importing, and wholesaling services, we handle every step of the supply chain to deliver our premium products to you. We also sell direct to customers, meaning you don't have to buy in bulk to enjoy great savings. We can even produce custom orders for you, meaning you can get exactly what you're looking for every time. Get all the gear to make your team look professional, or set your own style standard with our fantastic collection of socks, sweatbands, and accessories. Our factory never uses child labor, meaning you can feel good about the products you are buying. In fact, because we ship direct from our factory to our warehouse, you can know where your order is at every step of the way. Get the peace of mind that comes from getting the best products, responsibly made and shipped.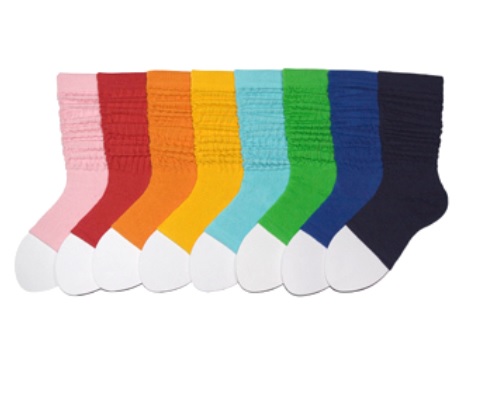 Customer Satisfaction is Our Number One Priority
100% Customer Satisfaction is Our #1 Priority
The reviews are in, and our customers are highly satisfied with the products they purchase with us. We hear from customers all the time who are enthusiastic about the quality of our products, including socks that really work when it comes to wicking away moisture. Your feet can sweat out a cup of water every day, more if you are engaging in intense physical activity. Our special Bamboo Charcoal Fabric White Toe Socks can keep you feet dry while offering a variety of other design features, including individual toes to keep the feet properly aligned and prevent blisters and calluses from forming. Our vast array of sweatbands work as advertised, keeping the desired area dry so you can keep doing what you do. The headbands keep the sweat out of your eyes and the wristbands keep your hands dry, meaning you can worry about playing defense instead of moisture. Customers rave about the durability of these products, noting the complete absence of loose threads and the way they hold up wash after wash. And, of course, everyone enjoys being able to get the custom color to match their uniforms or individual style. In addition to our above board selection of high quality products, we also have the friendliest staff around. We pride ourselves on great customer service, including friendly people, fast delivery, and easy ordering. Browse our vast selection today and find out what so many of our satisfied customers already know.
Wristbands | Cheap Cotton Wristbands | Sports Wristbands Wholesaler

out of 5 stars
Read what customers have to say

about us:

Reviewer: Joey Costa
As a little league coach it is important for me to find and sports apparel vendors that can provide me with high quality products at low prices. The custom wristbands that I purchased from Couver were delivered to me quickly and exactly as i requested. Thanks Again Couver!!
Monthly Specials For February